Churches Together In Leyland
Furniture Scheme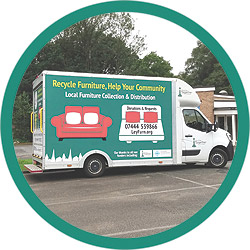 FREE Furniture Scheme
The scheme collects furniture donated by members of the public and redistributes it to help people in our community that need it. It is based at St Mary's Community Centre on Broadfield Walk in Leyland.
To make requests or donations, please use the enquiry form on this page or contact 07444 539866.
Thank you so much for using and supporting this service – it is much appreciated.
How The Furniture Scheme Operates
Every single furniture and electrical item is provided FREE OF CHARGE.
CTL operate the scheme on a 'Do unto others as you would like to be done to yourself' basis.  The scheme is run by volunteers who manage the incoming furniture donations, requests for furniture and outgoing deliveries, PAT test electrical equipment, collect and deliver furniture.  As the scheme is run by volunteers, it is not possible to provide a "service on demand".
Order & Despatch Process
People kindly donate furniture and electrical items
Items that are donated are stored in a small facility (not open to the public) at the Community Centre
People in our community make requests for the items they require
The requests are then checked for availability
Delivered times from request to action varies typically from 1 to 4 weeks
Donations To The Scheme
The scheme does not receive any income. However, it does have EXPENSES to run its delivery vehicle with insurance, fuel and maintenance costs to bear to keep the scheme in operation.
Consequently, a modest "voluntary" donation of £10 per delivery is sought from people that receive furniture in order to keep this valuable service running for the residents of Leyland and South Ribble.
What The Scheme Can Provide
The following list provides an outline of the kind of items that can be made available. The furniture scheme are NOT ABLE to accept bulky items like 3 seater sofas, display cabinets or large wardrobes. If you're not sure if an item you would like to donate is suitable, please ask for guidance.
Please also ensure that the condition of any item you wish to donate is fit for the purpose it is designed for, and in a condition in which you would like to receive one – many thanks. All soft furnishings MUST be complete with a fire label.
LOUNGE FURNITURE
2 seater sofas, armchairs, riser recliners and small suites, TV's.
BEDROOM FURNITURE
Bunk, single, double and king sized beds with and without a mattress. Single, double and king sized mattresses in good condition. No folding beds please.
Small and medium wardrobes, chests of drawers, bedside units.
SMALL DINING TABLES & CHAIRS
KITCHEN
Cups, plates, bowls, utensils, pots & pans
Microwaves, plug-in combi ovens and table top cookers
We cannot take electrical items that are "hard wired" like ovens, hobs or cookers, etc. Nor can we accept gas appliances.
Please note – Make sure items for donation are in proper working order, thank you. All electrical goods are PAT tested before distribution to new homes.
WHITE GOODS
Free standing fridges, fridge freezers, washing machines, dryers, etc. We do not take in-built/fitted appliances.
Free Furniture Near Me
People are quite often looking for charities that collect furniture from your home.
So, if you are looking to donate furniture to homeless or other people in need, please consider our Furniture Scheme.
You can rest assured that it will go to a deserving household who will be very grateful for your kind help.
Free Furniture Collection Near Me
If you have been searching for free collection unwanted furniture, please consider our free furniture collection service.
We cover the whole of South Ribble including Leyland, Midge Hall, Penwortham, Bamber Bridge, Lostock Hall, Longton, Much Hoole, Walmer Bridge, Walton-le-Dale, Samlesbury and Higher Walton. We even go to Chorley occasionally.