Churches Together In Leyland Groups
Please provide some descriptive text ………… 

Credit Union
Credit Unions are community savings and loans co-operatives, owned and run by the members. They provide a safe and viable alternative to pay day loans, enable people to save as well as offering low cost loans and provide a safe and ethical place to borrow from.
The collection point is in the Coffee Lounge of Leyland United Reformed Church (Door B Quin Street) on Tuesdays between 2-3pm on Tuesdays.
To open an account you can start with just a £1 and need two forms of identification (passport, driving license, utility bill, etc). You can open joint accounts and ones for children (need birth certificate). You can come along to make deposits, set up a standing order or have money paid in directly if you don't have a bank account. After 10 weeks of saving you can apply for a Saver Loan at 12.7% APR (i.e. 1% per month).
Membership of Unify is available to anyone who lives or works within Wigan, Leigh, Chorley, Leyland or Skelmersdale. All deposits are covered by the Financial Services Compensation Scheme. You can find more information at http://www.unifycu.org/
A poster with the above details is here
CTL Furniture Scheme
Run via St Marys' Church, collects and distributes second-hand furniture to those in need.
For donations or requests, please contact 01772 455955 on Tuesday mornings.
The van operates on Tuesday mornings.

Food Bank
Leyland Food Bank provide temporary relief for the hungry in Leyland.

One Voice Choir
A collection of singing voices from Churches Together in Leyland and Churches Together in Penwortham.
The ecumenical choir meets most Wednesday evenings in St Mary Magdalen's Church, Leyland Road, Penwortham 6:45 – 8.45pm.
Contact Robert Haydock on 01772 431979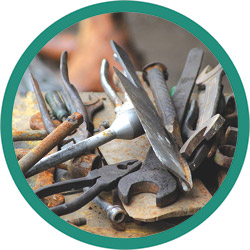 Tools For Self Reliance
Tools for Self Reliance was formally registered as a charity with the mandate of working with local organisations in developing countries to relieve poverty amongst the local population. It was envisioned as being a practical way to support tradespeople in some of the poorest parts of the world.
When we started, the tool collection and refurbishment process provided people in the UK with the opportunity to work together for the greater good. Today, there are hundreds of volunteers in Tools for Self Reliance groups all over the country, collecting and refurbishing tools, and there are scores of others collecting tools, raising money and publicising our work.
The local Tools for Self Reliance Group meets at the United Reformed Church on Thursday evenings at 7.30pm.
Anyone with tools to donate can bring them most Thursday evenings to the Quin Street entrance or if interested in helping please contact John Mercer on 01772 315755. You can find more information about TfSR on their website