Churches Together In Leyland Groups
There are groups and activities for all age groups across the churches. Their diversity offers something for everyone. For details of individual church groups see the respective church website.
There are also opportunities to join groups and get involved in activities bringing together members of all the churches. From singing with the Churches Together One Voice choir to refurbishing tools or volunteering to help those in need, all these groups are waiting to welcome you.

Food Bank
Working closely with church communities, businesses and local supermarkets Leyland Foodbank provides temporary relief for the hungry in Leyland. It is open Monday to Thursday 10am –12noon, operating on a referral basis from St Mary's Community Centre, Broadfield Drive, Leyland PR25 1PD
For those in urgent need of food one off parcels are available. If you are in need of food, please come along and our volunteers will help you.
They will give you food and discuss getting a referral if you are going to need further support.
We would like to thank all the generous people, organisations and businesses that regularly support the Food Bank with their donations.
The Food Bank Team
New Tesco Collections Trolley
If you donate at Tesco, then please put your food donations for our foodbank in this trolley. (No Leyland foodbanks current purchase food from FareShare and so no food placed in the adjacent FareShare trolley benefits anyone locally.)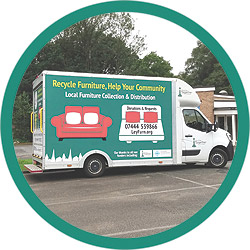 CTL Furniture Scheme
This scheme offers practical help to those in the community who are most in need by collecting donated pre-loved furniture and distributing it to them.
Providing outreach to the community, the scheme is inclusive and non-stigmatising, supporting hundreds of people a year. It also provides a valuable environmental role by re-cycling pre-loved furniture, preventing it from being sent to the local tip.
The scheme is run from St Mary's Community Centre, Broadfield Drive, Leyland PR25 1PD
For donations or requests, please click here.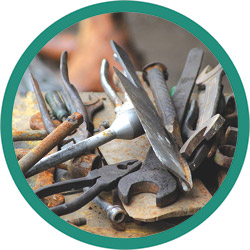 Tools For Self Reliance
​Tools for Self Reliance is a UK registered charity with the mandate of working with local organisations in developing countries to relieve poverty amongst the local population. It is a practical way to support local craftsmen in some of the poorest parts of the world.
Tool collection and refurbishment provides people in the UK with the opportunity to work together for the greater good. Today, there are hundreds of volunteers in Tools for Self Reliance groups all over the country refurbishing tools and sewing machines, and there are scores of others collecting them, raising money and publicising our work.
The local Tools for Self Reliance Group meets at the United Reformed Church on Thursday evenings from 7 until 9pm.
Anyone with tools or sewing machines to donate can bring them most Thursday evenings to the Quin Street entrance. Almost all tools and sewing machines are accepted, but please note that only those suitable to support current or future TfSR projects will go to Africa. Everything will be used one way or another.
We raise money by selling items not suitable for Africa, either locally, via TfSR headquarters or through specialist dealers. Items not fit for use will be stripped for spares or to be sold as scrap. Scrap metal sales provide income to pay for the transport of the several pallet loads per year that the Leyland group send to TfSR headquarters.
For more information about the local group or if you are interested in helping or need tools collecting, then please contact any of:
Eccleston area – Dennis O'Connell 01257 451270
Leyland Area – John Mercer 01772 315755
Leyland area – Martin Smith 01772 452745
You can find more information about TfSR on their website.

One Voice Choir
A collection of singing voices from Churches Together in Leyland. Singing both church and secular music, the choir sing for pleasure and put on fund raising concerts.
The ecumenical choir meets weekly under the direction of their musical director – Julie Wolverson. The choir practices every Wednesday (September to July) from 7 to 9pm in St. Mary's Community Centre, Broadfield Drive, Leyland PR25 1PD
For more information, please use the 'contact us' form below, or phone Teresa Smith on 01772 452745

SLEAP
Support in Leyland with Emergency Accommodation for Young People
SLEAP was set up by local people who were concerned about homeless young people in their community and the lack of services or help.
Since then, we have always strived to maintain a community approach to all we do.
Our model of accommodation provision is based on individuals and families across the community who are recruited, trained and supported to host and work with our young people.
Based in the Baptist Church, Leyland Lane.
Check out https://sleap.co.uk/ for more information and how to get involved.
St Vincent de Paul Society
Help For People In Need
St Vincent de Paul is an international Christian organisation, providing direct practical assistance to anyone in need. We do this whilst offering people the hand of friendship through befriending visits. Here in Leyland we are an ecumenical group based at St Mary's church.
We work alongside other organisations, including the Foodbank and the Furniture Scheme visiting anyone referred to us. All those we see are in need of support.
They may be people who are unwell, in debt, lonely, victims of Domestic Violence, newly divorced, newly unemployed, those with mental health problems or suffering from addictions.
For more information, donations or requests please contact St Mary's Church on 01772 455955.